Mizubasho (Skunk Cabbage)
尾瀬エリア見る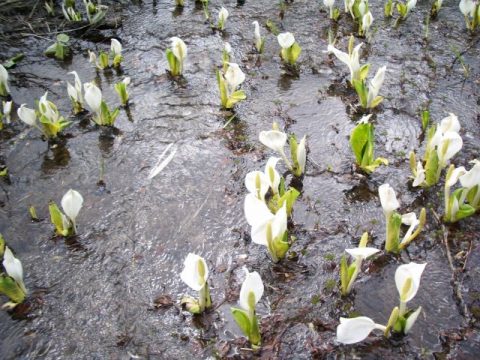 Skunk cabbages, a flower species that appears in the lyrics of the Japanese famous song, 'Natsu no Omoide (Memories of Summer)' which goes 'Natsu ga kureba Omoidasu....(When Summer Comes I remember..) '.
The white part looks like a petal but is actually a leaf species called 'Butsuenho (spathe)' and the bright yellow part looks as if the corn in the middle is the flower. Taking a closer look, you will notice that this one is not only a single form but has other small flowers around the calyx.
The pretty Skunk Cabbage has a special meaning to it in the flower language--'beautiful memories and never fading beauty'.
[By Car] About 40 minutes from Numata IC on the Kanetsu Expressway to Tokura
   About 30 minutes by shuttle bus from Tokura
 *If you are entering from the Hatomachi Toge Bypass, please check the traffic information in advance as there are private car regulations.

Public Transportation: About 120 minutes by bus (fixed route) from Jomokogen Station of Joetsu Shinkansen to Tokura/ About 30 minutes by shuttle bus
       About 90 minutes by bus (fixed route) from Numata Station of Joetsu Shinkansen to Tokura/ About 30 minutes by shuttle bus
| | |
| --- | --- |
| Address | Address Oze National park, Tokura, Katashina-mura, Tone-gun, Gunma-ken, 378-0411 |

一覧へ戻る