Bath
Ko-no-yu spa
Take a relaxing soak in 'Ko-no-yu' with a beautiful landscape of flowers blooming in all four seasons.
Please relax and enjoy your time with panoramic sceneries such as Mt. Sukai.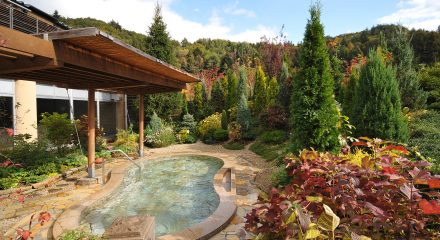 Kaze-no-yu spa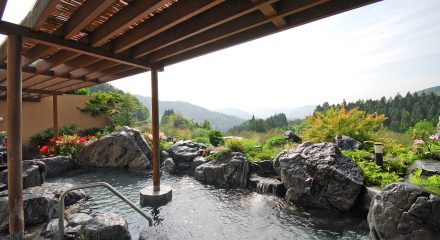 Enjoy the Japanese rock garden style open-air bath of rustic beauty. A relaxing time is promised at Kaze-no-yu spa.
The natural stone-made open-air bath with a Japanese -style garden overlooks flowers blooming in all four seasons. Taking a soak in the spa will be truly soothing and utterly uplifting for your mind and body.
Restaurant Hanasaku
A variety of cuisines made with love and sincerity.
We take pride in the variety of dishes made with the abundant fresh local ingredients of Katashina.
Dining-only customers are also welcome.

Opening Hours: 11:00-15:00(Last call for Lunch: 14:00)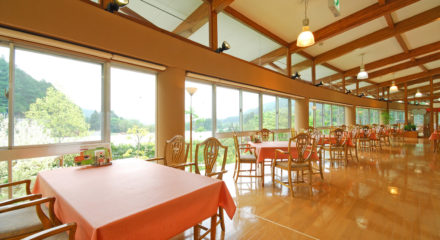 Menu Examples
Ganbanyoku (bedrock bath)
The bedrock bath offers premium facilities decorated entirely (the floor, wall, and ceiling), with Kiyoseki, a stone mined only in Katashina village.
The bath is said to have skin-smoothing and detoxing effects.
We highly recommend that you experience this wonderful bath for yourself.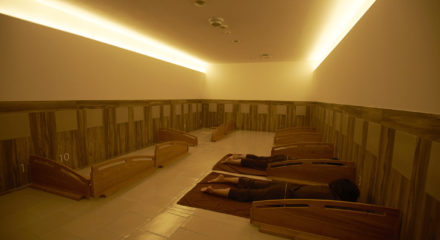 Souvenir and Gelato (Italian-style ice cream) Booth
Scarlet runner beans are the specialty of Katashina, a village located at high elevation. We offer original goods made with Scarlet runner beans and other various products unique to the region. Gelato ice creams are highly recommended after bath time.

Farmer's Store
We have a wide range of fresh and tasty plateau vegetables.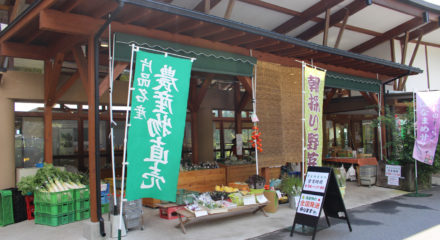 Observation Balcony
The balcony is very refreshing with the spectacular landscape of Mt. Sukai, one of the hundred famous Japanese mountains. Savor the moment of happiness over a coffee made with pure spring water.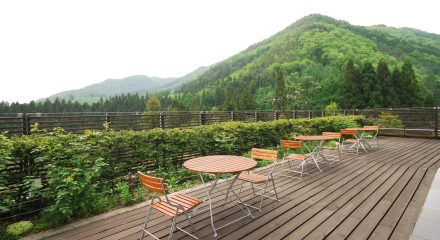 Natural Garden
The scenic beauty from all four seasons will heal the minds and hearts of all visitors.
You can enjoy the scenic beauty in all four seasons at the garden which is in a perfect harmony with the local nature. Why don't you take an easy and relaxing stroll?

Shinbo Kogure Print Art Gallery
The gallery exhibits silk screen prints from Shinbo Kogure, a Japanese artist who is dedicated to capturing the beauty of nature commencing with Oze in his artwork. His landscape paintings are highly praised throughout the world for their refreshing colors and poetic and delicate touch. Landscape paintings of about 30 scenic spots in Katashina are exhibited all year round. Relax and admire this amazing art. It will make your stay in Oze Katashina an even more memorable one.